Employer Career Fair Information
Registration for the

Spring "Engineering-Only" Career Fairs
will open this fall!

COST: $495 per space or $990 for two spaces
(maximum of two spaces at the fair of your choice)
Please click on the date of your choice below to register:
| | |
| --- | --- |
| Tuesday, February 19th 2020 | Tuesday, February 20th, 2020 |
Please only register for one of the two dates. We do not allow employers to attend both spring fairs. Thanks for understanding!
We ONLY accept payment by credit card.
AFTER registering,  please visit UConn Marketplace, by clicking on the icon shown below, to pay for your registration.
You will be re-directed to UConn Marketplace, where you will see the same icon near the bottom of the page.
Select it again to make payment.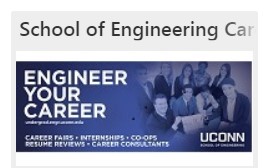 We do NOT offer refunds for cancelation of registrations; the registration fee is not refundable.
Time/Location: The fair runs from 11am to 3pm at UConn Storrs Campus in the Rome Commons ballroom. You can have access to your space at 10am.
Parking: Please park in the South Parking garage; walking signs will direct you from the parking lot to Rome ballroom.
Here is what your registration includes:
■ Free parking at the South Parking Garage (bring your ticket to the fair to be validation-stamped)
■ Beverage service 10am to 2pm
■ Lunch from 11:30am to 2:30 pm in the Rome Ballroom Portico
■ One 6 foot long draped table with a draped backdrop
■ Two chairs (strict limit of 4 company representatives per registration)
■ Student assistance with loading and unloading your materials
■ Free access to UConn Guest Wi-Fi (pre-sign up is NOT needed)
Please Note: We do NOT provide name tags for company representatives.
Materials can be shipped NO LATER THAN one week before the Fair to:
UConn Central Stores
Engineering Career Fair <put date of fair here>
Attn:  Monica Bullock, Undergraduate Program Coordinator
3 North Hillside Road, Unit 6114
Storrs, CT 06269-6114
If you pre-ship materials to UConn Central Stores, please bring a pre-paid shipping label and re-packaging supplies to the fair.
Our Central Stores staff will take your items to UConn Mail services for shipping, at the conclusion of the fair.