Senior Design Demonstration Day
University of Connecticut ▪ Storrs, Connecticut
Gampel Pavilion ▪ Friday, May 1st, 2020
Open to the public at 12:30pm
Remarks and Awards at 3:30 pm
_________________________________________________
Senior Design Demonstration Day:
What SDDD students need to know.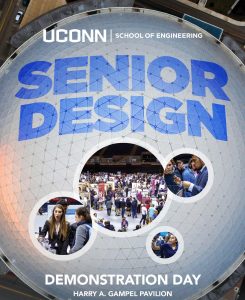 TEAM PHOTOS
Making arrangements for getting a team photo taken, and any associated expense, is the sole responsibility of the students in each team.
REFRESHMENTS
Light refreshments: such as cookies and brownies, veggies & dip, cheese & crackers, and beverage service such as coffee, tea, iced water and lemonade, will be provided FOR SENIOR DESIGN STUDENTS ONLY from 9:30am to 1:00pm. Lunch for faculty, staff, judges, and sponsors is NOT provided. 
ACCESS TO GAMPEL
Senior Design students will have access to Gampel on Thursday, April 30th from 4:00 pm to 8:00 pm for setup. Do NOT come early. On Friday, May 1st you will have access starting at 8:30 am. Judging starts on Friday morning. Gampel is open to the public at 1:00pm on Friday. The event runs from noon to 4:30 pm. Breakdown occurs from 4:30 pm to 5:00 pm.
POSTER PRINTING
Find instructions here.
ELECTRICAL SERVICE
Electrical service is NOT provided to run laptops or charge cell phones. Please be sure to fully charge your devices before coming to Gampel. We do NOT provide surge outlet strips or extension cords. If you have requested electrical service for your project (not for cell phone and laptops) and you will need a surge outlet strip, you must bring one with you.
Do you have a question not answered here? Contact the undergrad office for answers at:
engr-seniordesign@uconn.edu

Don't MISS Out!
How would you like to see yourself on the jumbo TV screens in Gampel? We will be running the Commencement slideshow during SDDD on the jumbo TVs at Gampel.
All slides must be:
Appropriate for family viewing

LANDSCAPE orientation, sized 1920 x 1080

JPEG or PNG file format (NOT PowerPoint!!!) 

The slide must be of you alone (no group shots)
Put a caption ON THE SLIDE with your first and last name, major and hometown. If you put other text on your slide – it will NOT be used
FIRM DEADLINE FOR PICTURE SLIDE SUBMISSION is Sunday, April 12th, 2020 by 11:30 pm.
Your grad slide will also be used at SDDDD AND Gampel during Commencement – don't disappoint your family and friends – send your picture now! Email your slide to: engr-ugcommencement@uconn.edu
Senior Design Demonstration Day Archive